When did you first purchase your life, disability, and/or long term care coverages?  Often, people purchase their policies, then stow them away and not look at them until they need them (which is often too late).  Life situations may have changed (and often do) since you originally purchased.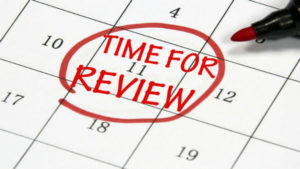 It's the ideal time to take a look at your insurance policies, making you sure you understand what type and extent of coverage you have and evaluating whether you need to make updates based on changes in your personal situation.  I am currently reviewing plans with my clients to ensure they are getting the optimal coverage for their current needs.  I welcome the opportunity to review your coverage as well as some overall life-stage planning.
While your life stage definitely has a bearing on the type and extent of insurance coverage you have, here are some other questions to ask:
Do I have more-or fewer-dependents who would be financially affected by my inability to work or by my death?
Do I need to update the beneficiaries on my policies?
Do I need to increase my coverage amount to ensure my family's current style of living is protected?
If I am a small business owner, do I have the following in place: life and disability insurance policies, a buy-sell agreement and key person insurance?
I'd like to invite you to coffee,  where we can review your current policies and determine if any adjustments should be made based on your life today to ensure your needs will be covered.